Materials: 1-4 1/4" Plastic Canvas
Circle,
6 yds. White, (or color of choice)
worsted weight or Needleloft Yarn
1 - 1" Silver Christmas Ball
with Hanging Wire Attached to Ball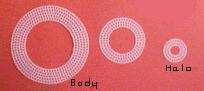 From edge of circle, count down 5 holes and trim
inner part of circle. There should be 88 holes
around outside of ring and 64 holes around inside of ring.
With remaining center piece, cut down four holes
and trim around center circle. Center circle is
the halo. Cut out middle of center circle. Circle
should be 2 holes high, with 26 holes around outer
edge and 20 holes on inner rim (for halo).