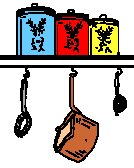 Welcome to our cooking page. We have included recipes and a page for hints
(including a measurement list). Enjoy!

We will continue to add to this page, so stop back often.

If you have any cooking tips and/or recipes you'd like to share,
just send us email and we'll be sure to include them on this page.
---

[ Home | Cooking/Recipes | Cooking/Hints]
---
To send a message:
I have removed the email link in hopes of reducing spam. To email you can reach Clever
Creations by using this address: marie(use the "at" sign)clevercreation.com
---